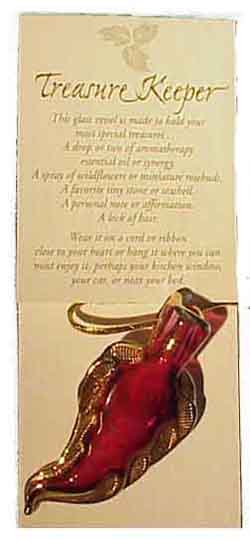 These Treasure Keepers are brought to you exclusively from O'Malley & Potter. They are hand-made in Egypt of a translucent pyrex-type glass adorned with 12 karat gold, and do not have a stopper-top. A drop or two of your favorite essential oil, synergy, or perfume oil will adhere to the insides of the vial and continue to waft up and into your space throughout the day. To change to a different scent, simply wash with soap and water, let dry, then add new scent.

As you handle your Treasure Keeper, your own natural body oils will impart an iridescent patina to the color that rivals no other.
(Wear it close to your heart....mmmmm, such nice body chemistry!)
Treasure Keepers are tied with a gold cord (long enough to wear as a necklace), packaged in a cello bag for protection, and topped with a header card with description as shown above.

Available in colors of: Ruby Red, Sapphire Blue, Emerald Green, and Deep Amethyst.