About US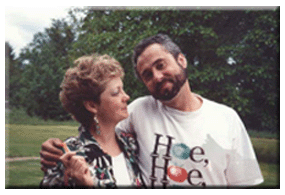 Here is a picture of my hubby, John Potter Burrows and me. John is a retired General Contractor, and general all-around "fix it" kind of a guy, so you can see that (in addition to all his other awesome attributes) he is really handy to have around when I've outgrown my space and need another facility built! He's the guy who steps in to save the day when I want to smash the computer, and on lotion-pouring days he is the only one who knows how to run the bottle filling machine smoothly - you know how it is, a little dumpling like me, well, I'll just never understand Machines!!!

We live in the middle of the woods with a pond (where Wood Ducks nest every year), a creek, and birds, coyotes, bobcats, deer, bats, flying squirrels, and other assorted wild critters, and not one neighbor in sight. John is the one in our family with the green thumb, and because of him, this place looks like the original Garden of Eden. We bless every day that we can live in a space so full of nature, peace and serenity.

As for me, well, most of my "current" story is written in the text of this site, so I'll leave it at that and save you the slow death by boredom.

The fact that aromatherapy has become my business has been the biggest surprise I've ever had. I was only looking for pain relief for myself, and a way back to Life. I say "thank you" a lot, and every day I wake up and wonder what will happen next!

Life is unpredictable, eat dessert first! (And say "thank you" a lot!)

Best to you and yours,
Claudia O'Malley
(Yes, O'Malley is my very own name, the one I was born with. I like it and I'm stickin' with it!)


We are often asked if we provide free samples. No. We are a small company. What we do offer, however, is the assurance that these products have been formulated and produced by us &quot we do not trust anyone else to properly mix and bottle our &quotpotions&quot, so you never have to wonder about the purity and integrity of our products.

All formulations have been developed to help relieve symptoms of a wide variety of concerns, and then tested on real people with real symptoms for a minimum of nine months to one year before being added to the product line.

We hope you will try our products, they brought me &quotback to the living&quot as you will see by persuing the rest of this site.